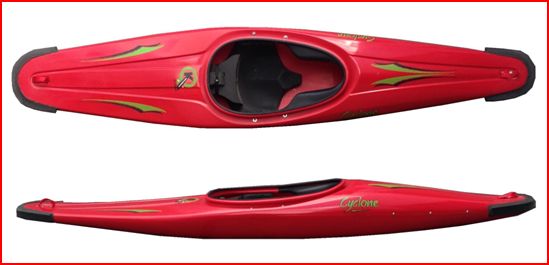 Top & Side view Cyclone. Action shot below with recommended equipment.
The cyclone complies with international standards. A competitive, yet stable 'user friendly' polyethylene polo kayak, the Cyclone has fast forward speed and is easy to manoeuvre. It is also an excellent kayak for teaching kayaking skills in the pool.
*NEWS FLASH* - Fishtex Predator Kontiki & Kayaks have taken over manufacturing of our recreation range. Contact details are on our News Page.
Cyclone
Length:
290 cm
Beam:
60 cm
Weight:
13 kg
Volume:
175 Litres
Cockpit:
78 x 45 cm
Body Weight:
Recommended paddlers weight is 30 - 90 kg
Recommended Accessories:
Paddle, Pfd, Spray Deck, Helmet with Faceguard