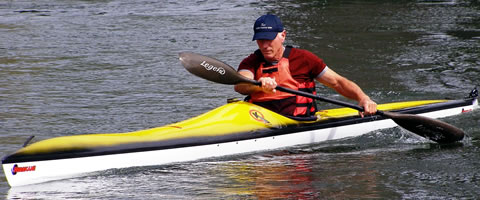 New, fast, and not so tipsy. The hurricane is designed to give you the very best balance of speed and stability. The sleek deck is designed to be less vulnerable to strong cross winds, while the raised bow provides extra lift to prevent the front of the kayak being submerged in rapids and small waves.
The Hurricane is user friendly with an adjustable seat and footrests, plus it is fitted with front and rear end loops for ease of lifting.
*NEWS FLASH* - Water Dragon NZ have taken over manufacturing of our Hurricane, Maximus and Torres. Contact details are on our homepage.
Hurricane
Length:
590 cm (Rudder not included)
Beam:
49 cm
Weight:
12 kg
Cockpit:
70 x 37 cm
Body Weight:
Recommended paddlers weight is 70 - 110 kg
Construction:
Kevlar / Carbon
Recommended Accessories:
Wing Paddle, Pfd, Spraydeck, Helmet, Airbags