About Mel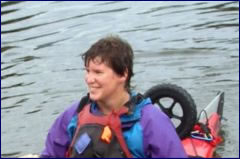 Name: Melanie "Melz" Grant

Born: 1973 in Manawatu, New Zealand

Favourite Sports: All types of Kayaking but mainly White Water River Kayaking & Sea kayaking. Other interests include - Snow Skiing, Tramping, Mountain Biking, Being in the Outdoors and Travelling.


Workplace: I have worked most of my life in a family kayaking business in the Manawatu.

Q-Kayaks Ltd is a well established New Zealand made kayaking business that has been manufacturing kayaks for 30+ years also exporting kayaks around the world. I have been involved with making the products to being the office girl & paying the bills.

Growing up I did the odd family kayaking trip but didn't get involved until High School where I was introduced to the school kayaking club. It was there that my slalom kayaking developed into travelling overseas competing at Junior World Champs.

As the years followed I gave up slalom but carried on with Canoe Polo, Kayak Racing, River Running, Canoeing and Sea Kayaking.

I love the adventure, the scenery, the challenge.
About Max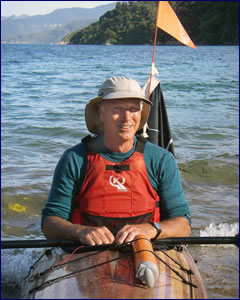 Name: Max Grant

Family: Wife: Margaret, Children: Sandy & Melanie, Grandkids: Jodie & Karla.

Born: Long time ago!

Favourite Sports: Sea kayaking, river kayaking, snow skiing, tramping, fishing and competing in triathlons.

Favourite Movie: Deliverance

Favourite Artists: Eagles, Fleetwood Mac, Bob Dylan.

Kayaking Achievements:

1970's First Descent several NZ rivers

1986 First Fiordland kayaking expedition to Dusky Sound

1988 Kayaked Cook Strait

1992 Circumnavigated D'Urville Island

1996 NZCA Bullion Award for Service to Kayaking

1998 Return trip to & Circumnavigated White Island

1999 Circumnavigated Chatham & Pitt Islands

1999 Kayaked Pitt Strait

2003 Kayaked Foveaux Strait

2003 Circumnavigated Stewart Island

2007 Jackson Bay to Milford Sound

2008 Milford to Bluff

2009 South Island East Coast

2010 Picton to Jackson Bay

2012 Makara Beach to Owhiro Bay

2014 Sub Antarctic Sea Kayak Trip

General Info: Fell in love with kayaking after my Dad & I made a canvas double kayak and kayaked down several rivers together. I started making my own kayaks, which lead to my wife, Margaret, & I forming our own kayak making business in 1979. Since then I have enjoyed kayaking in lots of amazing places with lots of wonderful friends. My wish is to be able to continue kayaking to lots more great places for the rest of my life :-)