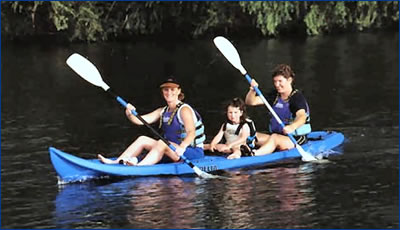 Why not take everyone? The Delta is an extremely versatile kayak that can be paddled by one, two, or three people. The flatter hull enables the Delta Double to carry a larger range of weight (people and gear) at a greater speed without any discomfort. See everyone smile as they surf down the wave!
Check out the Escapade ll for QK's smaller Sit on top Double
The Delta, Escapade ll, Escapade, Escapee and Whizz Sit on top kayaks plus our Kiwi and Tui sit in kayaks are currently unavaliable but we are in the process of changing ownership.
Delta
Length:
402 cm
Beam:
83 cm
Weight:
32 kg
Depth:
35 cm
Body Weight:
Recommended Paddlers Weight is 50 - 210 kg
Recommended Accessories:
Paddle, Pfd, Seat / Backrest