Our tried and true 'user friendly, performance' sea kayak has had a 'REVAMP'. With the 'Shearwater' kayak coming out using the Penguin hull, it was time to spruce up the Penguin to ensure she stays modern.
Look at the top right picture to see how she performs, surfing.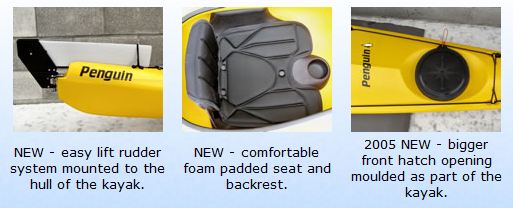 Available in Standard (Polyethylene) and Lite (Polyethylene foamed core construction).
The Penguin can best be described as 'user friendly'. A stable and responsive kayak, the Penguin is a light polyethylene kayak that moves effortlessly through the water. It's low profile and stability handle extremely well in windy conditions, plus the flared bow makes for safer paddling in rough conditions.
Penguin
Length:
480 cm
Beam:
61 cm
Weight:
Standard: 26.5 kg - Lite: 23 kg
Volume:
305 Litres (Front 55L, Rear 90L, Cockpit 160L)
Cockpit:
80 x 46 cm
Construction:
Standard: Polyethylene construction
Lite: Polyethylene foamed core
SPECIAL OFFER - Buy a Q-Kayak Seakayak and receive a free copy of Fiordland and Beyond written by Max Grant - A Circumnavigation of the South Island of New Zealand by kayak.