Designed for expeditions where distances are to be covered in varying sea conditions. The Skua has a low deck profile enabling it to perform extremely well in windy conditions, while its longer hull gives it greater speed and allows it to respond in a following sea to surf the waves.
The Skua displays several new safety features that ensure maximum safety on the sea, including new adjustable thigh braces, paddle holder, rescue system and an easy accessible day hatch behind the cockpit.
Available in polyethylene or kevlar/carbon construction (Southern Skua)
Max & Melanie Grant used the polyethylene construction of the Penguin, Shearwater and Skua seakayaks when curcumnavigating around the South Island by seakayak. At times there were rough seas and rough landing but their kayaks handled the conditions perfectly.
*NEWS FLASH* - Mission Kayaking have taken over manufacturing of our Swift, Penguin, Shearwater, Skua and Southern Endeavour + our recreation Strike. Contact details are on our homepage.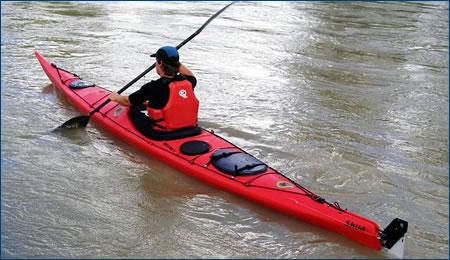 Skua
Length:
515 cm
Beam:
60 cm
Weight:
Standard: 27 kg
Volume:
355 Litres (Front 75L, Rear 75L, Centre Compartment 45L, Cockpit 160L)
Cockpit:
79 x 46 cm
Recommended Accessories:
Paddle, Pfd, Spray Deck, Paddle leash, Paddle float, Safety Flag, Pump
Construction:
Standard: Polyethylene construction
Check out here who's using our Skua -
2013 December / April 2014 - Tara Mulvany North Island Circumnavigation
check out her blog here for more information - http://www.tarasjourneys.com/apps/blog/
2013 November / December - Tara Mulvany Sea kayaks around Stewart Island.
2012 Tara & Simon's South Island Circumnavigation http://winterkayakers.blogspot.co.nz/
In the last NZ KASK Newsletter Tara says " I want to say a special thank you to Max Grant from Q-Kayaks who helped me out with my Skua, which turned out to be really awesome! The boat made it & I didn't have a single problem with it the entire journey. It's fast, stable & an awesome surfer - plus the seat is comfy".
Max & Melanie Grant's South Island Circumnavigation
2010 The end of our Journey - http://southislandcharityexpedition.blogspot.co.nz/